Procol Harum LP list




To:US LP
To:Other country releaseed LP
To:Collector's LP(Bootleg LP)
---
UK released LP


1st:Selftitled(January/1968) Regal Zonophone LRZ1001 Mono

UK Chart:- US Chart:No 47

Member:
Gary Brooker(Piano&Vocal),
Keith Reid(Composer),
Matthew Fisher(Hamond Organ),
Robin Trower(Guitar)、
Barrie.James.Wilson(Drum),
Dave Knight(Bass)

Produced by Denny Cordell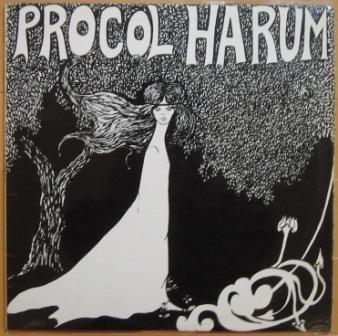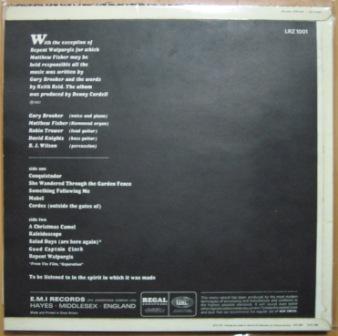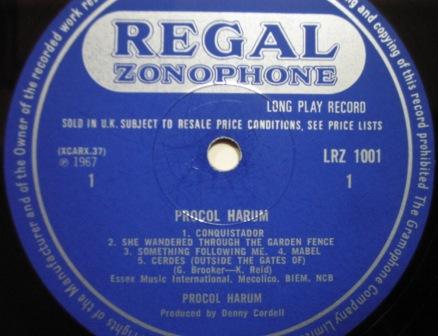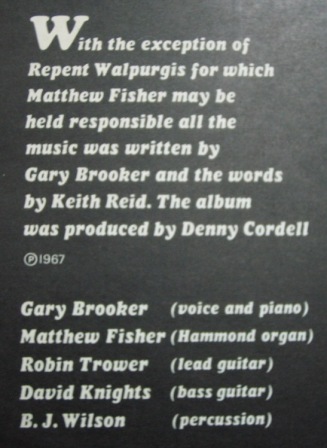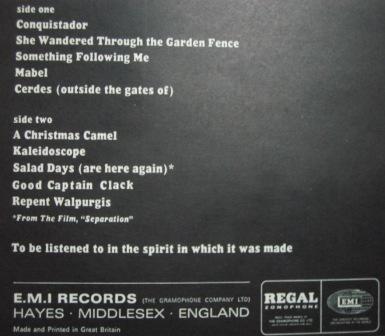 Track listing:
A:
1.Conquistador 2:36
2.She Wandered Through the Garden Fence 3:22
3.Something Following Me 3:36
4.Mabel 1:52
5.Cerdes (Outside the Gates of) 5:01
B:
6.A Christmas Camel 4:45
7.Kaleidoscope 2:53
8.Salad Days (Are Here Again) 3:39
9.Good Captain Clack 1:29
10.Repent Walpurgis(Composed by Matthew Fisher) 5:04




2nd:Shine on brightly (December/1968) Regal Zonophone LRZ1001 Mono/Stereo
US released one came in different sleeve

UK Chart:- US Chart:No 24

Member:Same to 1st

Produced by Denny Cordell,Tony Visconti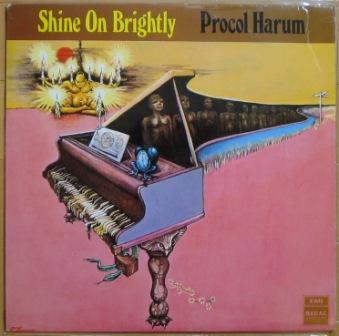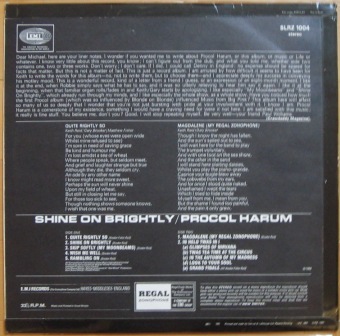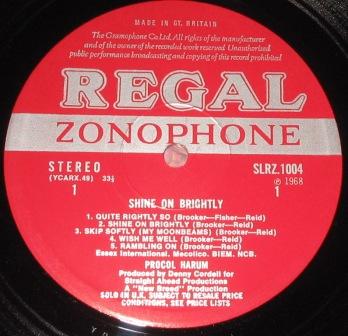 Track listing
A
1. Quite Rightly So (3:40)
2. Shine on Brightly (3:32)
3. Skip Softly (My Moonbeams) (3:47)
4. Wish Me Well (3:18)
5. Rambling On (4:31)
B
6. Magdalene (My Regal Zonophone) (2:50)
7. In Held Twas in I (17:31);
Glimpses of Nirvana
Twas Teatime at the Circus
In the Autumn of My Madness
Look at Your Soul
Grand Finale

3rd Salty Dog (May/1969) Regal Zonophone SLRZ1009

UK Chart:NO 27 US Chart:No 32

Member:Same to 1st&2nd

Produced by Matthew Fisher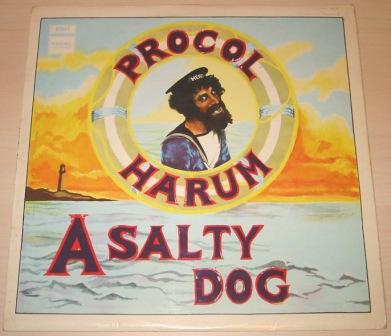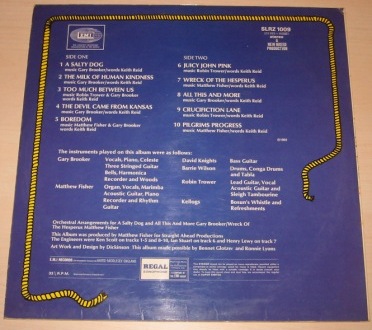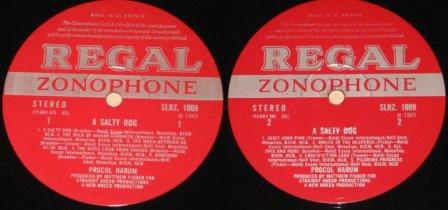 Track listing
A
1. A Salty Dog (4:41)
2. The Milk of Human Kindness (3:47)
3. Too Much Between Us (3:45)
4. The Devil Came from Kansas (4:38)
5. Boredom (4:34)
B
6. Juicy John Pink (2:08)
7. Wreck of the Hesperus (3:49) (Vo:Matthew Fisher)
8. All This and More (3:52)
9. Crucifiction Lane (5:03) (Vo:Robin Trower)
10. Pilgrims Progress (4:32) (Vo:Matthew Fisher)

4th Home (July/1970) Regal Zonophone SLRZ1014

UK Chart:No 49 US Chart:No 34

Member:
Gary Brooker(Piano&Vocal),
Keith Reid(Composer)
Chris Copping(Hamond Organ&Bass Guitar)
Robin Trower(Guitar)
B.J.Wilson(Drum)

Produced by Chris Thomas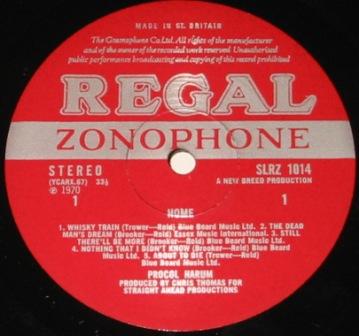 Track listing
A
1. Whisky Train (4:31)
2. The Dead Man's Dream (4:46)
3. Still There'll Be More (4:53)
4. Nothing That I Didn't Know (3:38)
5. About to Die (3:35)
B
6. Barnyard Story (2:46)
7. Piggy Pig Pig (4:47)
8. Whaling Stories (7:06)
9. Your Own Choice (3:13)



5th Broken Barricade (August/1971)Chrysalis ILPS 9158 Gatefold sleeve


UK Chart:No 42 US Chart:No 32

Member:Same to 4th

Produced by Chris Thomas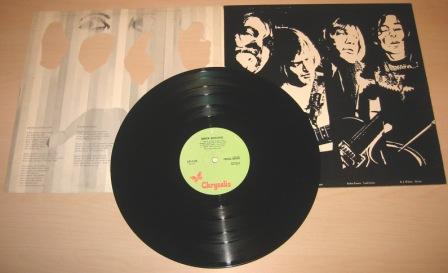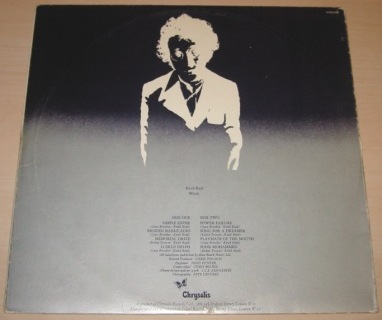 Track listing:
A
1. Simple Sister (5:48)
2. Broken Barricades (3:09)
3. Memorial Drive (3:43)
4. Luskus Delph (3:44)
B
5. Power Failure (4:29)
6. Song For A Dreamer (5:36)
7. Playmate Of The Mouth (5:03)
8. Poor Mohammed (3:05)



6th Live: In Concert With the Edmonton Symphony Orchestra (1972) Chrysalis


UK Chart:No 48 US Chart:No 5

Member:
Gary Brooker(Piano&Vocal),
Keith Reid(Composer")
Chris Copping(Hamond Organ)
Dave Baul(Guitar)
Alan Cartwright(Bass)
B.J.Wilson(Drum)

Produced by Chris Thomas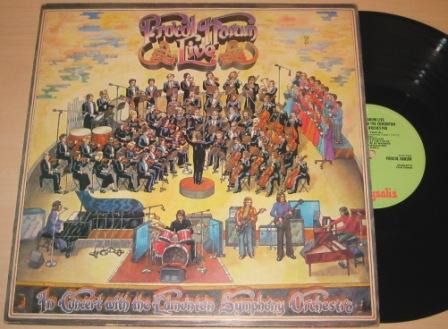 Track listing:
A:
1. Conquistador (5:02)
2. Whaling Stories (7:41)
3. A Salty Dog (5:34)
4. All This And More (4:22)
B:
In Held 'Twas In I (19:00)
5.Glimpses of Nirvana
6.Twas Teatime at the Circus
7.In the Autumn of My Madness
8.Look at Your Soul
9.Grand Finale



7th Grand Hotel (March/1973) Chrysalis CHR1037

UK Chart:- US Chart:No 21

Member:
Gary Brooker(Piano&Vocal),
Keith Reid(Composer)
Chris Copping(Hamond Organ)
Mick Grabham(Guitar)
Alan Cartwright(Bass)
B.J.Wilson(Drum)

Produced by Chris Thomas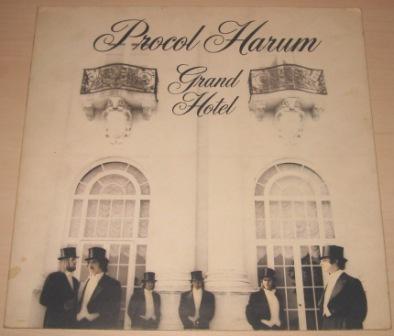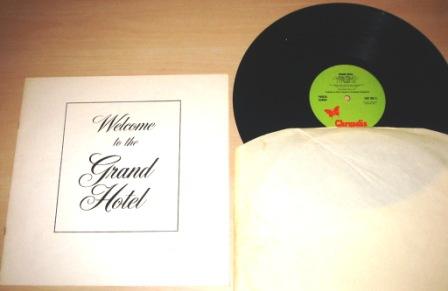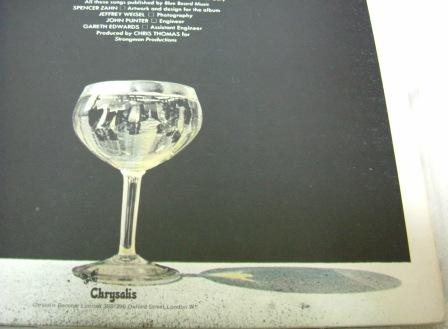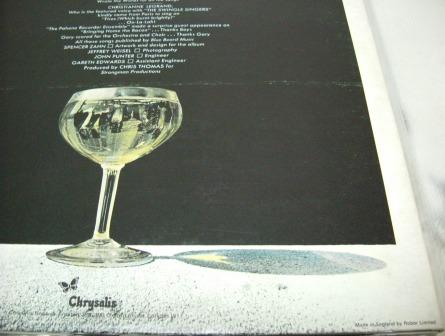 A:
1.Grand Hotel
2.Toujours l'Amour
3.Rum Tale
4.T.V. Ceasar
B:
5.Souvenir of London
6.Bringing Home the Bacon
7.For Liquorice John
8.Fires (Which Burnt Brightly)
9.Roberts Box



8th Exotic Birds and Fruit (April/1974) Chrysalis CHR 1058

UK Chart:- US Chart:No 86

Member:Same to 7th

Produced by Chris Thomas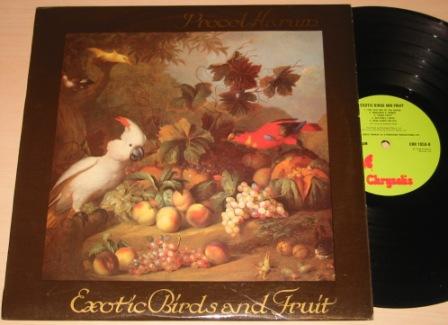 Track listing
A
1. Nothing But the Truth (3:13)
2. Beyond the Pale (3:03)
3. As Strong as Samson (5:05)
4. The Idol (6:38)
B
5. The Thin End of the Wedge (3:44)
6. Monsieur R. Monde (3:40)
7. Fresh Fruit (3:05)
8. Butterfly Boys (4:25)
9. New Lamps for Old (4:07)



9th Procol's Ninth (August/1975) Chrysalis CHR 1100

UK Chart:No 41 US Chart:No 52

Member:Same to 7th&8th

Produced by Jerry Leiber and Mike Stroller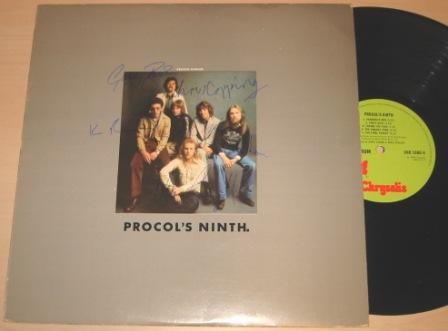 Track listing
A:
1. Pandora's Box (3:36)
2. Fools Gold (3:58)
3. Taking the Time (3:37)
4. The Unquiet Zone (3:39)
5. The Final Thrust (4:35)
.
B:
6. I Keep Forgetting (3:25)
7. Without a Doubt (4:29)
8. The Piper's Tune (4:26)
9. Typewriter Torment (4:27)
10. Eight Days a Week (2:54)



10th Something Magic (March/1977) Chrysalis CHR1130

UK Chart:- US Chart:No 147

Member:Gary Brooker(Piano&Vocal),
Keith Reid(Composer)
Chris Copping(Bass)
Mick Grabham(Guitar)
Pete Solley(Organ)
B.J.Wilson(Drum)

Produced by Procol Harum/Ron&Howie Albert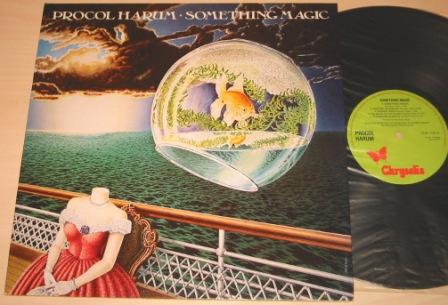 Track listing
A
1.Something Magic
2.Skating on Thin Ice
3.Wizard Man
4.Mark of the Claw
5.Strangers in Space
B
6.Worm
7.Part One - Introduction/Menace/Occupation
8.Part Two - Enervation/Expectancy/Battle
9.Part Three - Regeneration/Epilogue




Reunion 1st:Prodigal Stranger BMG

UK Chart:- US Chart:-

Member:
Gary Brooker(Piano&Vocal),
Keith Reid(Composer),
Matthew Fisher(Hamond Organ),
Robin Trower(Guitar)、
Mark Brenzki(Drum),
Dave Bronze(Bass)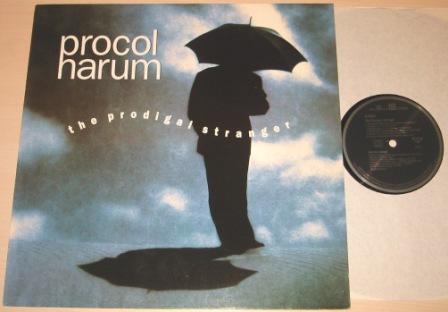 Track listing
A
1. The Truth Won't Fade Away (4:19)
2. Holding On (4:18)
3. Man With a Mission (4:10)
4. (You Can't) Turn Back the Page (4:00)
5. One More Time (3:43)
6. A Dream in Ev'ry Home (4:04)

B
7. The Hand That Rocks the Cradle (4:07)
8. The King of Hearts (4:23)
9. All Our Dreams Are Sold (5:31)
10. Perpetual Motion (4:48)
11. Learn to Fly (4:26)
12. The Pursuit of Happiness (4:00)



UK 2nd issue or later issue of A whiter shade of pale LP

cube records HIFLY37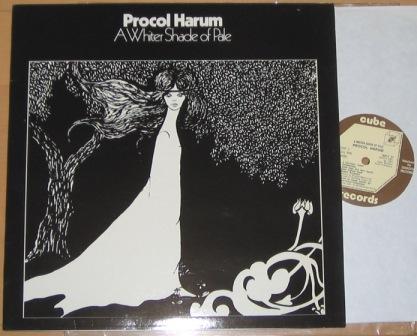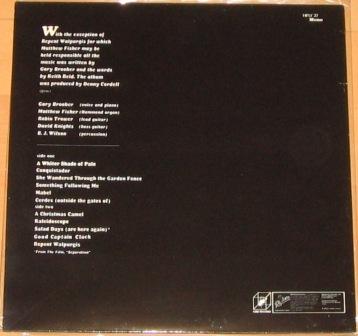 ---
1st selftitle & A whiter shade of pale other country released LP

US selftitled DERAM MONO(DE16008) Stereo(DE18008)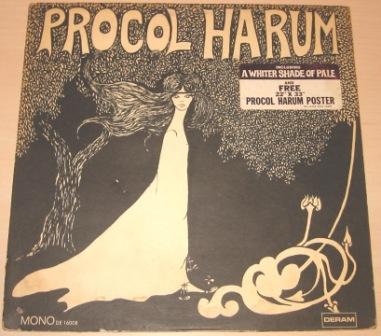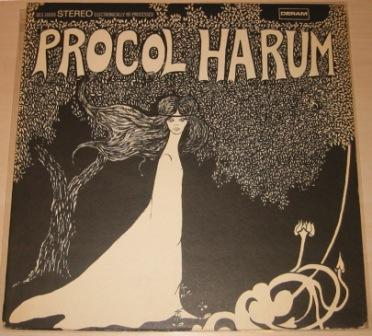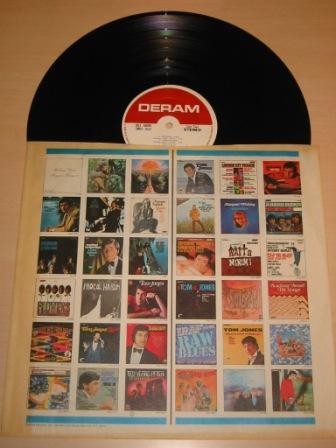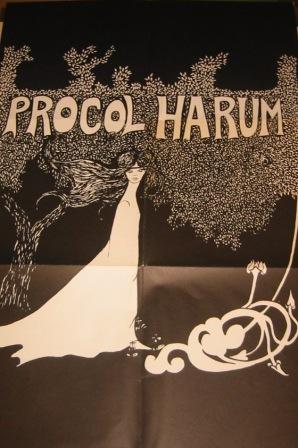 MONO&STEREO.The photo on the right is a first limited rare poster.

Track listing:
A:
1.A whiter shade of pale 4:03
2.She Wandered Through the Garden Fence 3:22
3.Something Following Me 3:36
4.Mabel 1:52
5.Cerdes (Outside the Gates of) 5:01
B:
6.A Christmas Camel 4:45
7.Conquistador 2:36
8.Kaleidoscope 2:53
9.Salad Days (Are Here Again) 3:39
10.Repent Walpurgis(Composed by Matthew Fisher) 5:04

US selftitled Classic Record release 200g Vinyl

Right one comes with 1000pcs Limited Edtion audiophile pressing. stereo EP of 「A whiter shade of pale & Lime street blues」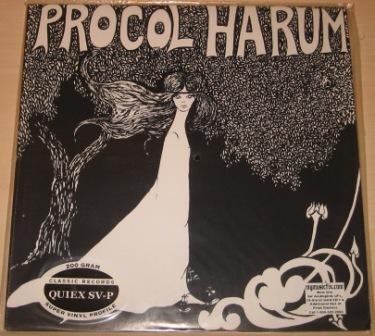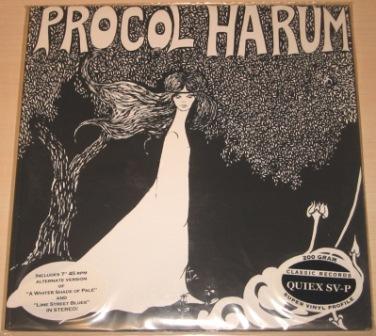 Tracklisting
A:
1.Homburg 3:55
2.She Wandered Through the Garden Fence 3:22
3.Something Following Me 3:36
4.Mabel 1:52
5.Cerdes (Outside the Gates of) 5:01
B:
6.A Christmas Camel 4:45
7.Kaleidoscope 2:53
8.Salad Days (Are Here Again) 3:39
9.Conquistador 2:36
10.Repent Walpurgis(Composed by Matthew Fisher) 5:04
---
German 1st selftitled MONO CUBE Records 6-26287 BL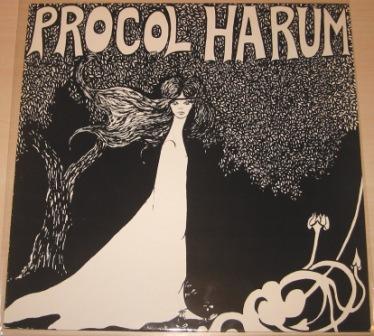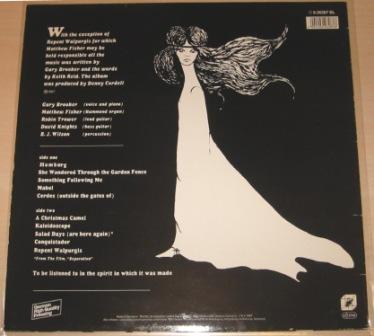 Tracklisting
A:
1.Homburg 3:55
2.She Wandered Through the Garden Fence 3:22
3.Something Following Me 3:36
4.Mabel 1:52
5.Cerdes (Outside the Gates of) 5:01
B:
6.A Christmas Camel 4:45
7.Kaleidoscope 2:53
8.Salad Days (Are Here Again) 3:39
9.Conquistador 2:36
10.Repent Walpurgis(Composed by Matthew Fisher) 5:04

French 1st selftitled EMI $ateside SSSX 340.600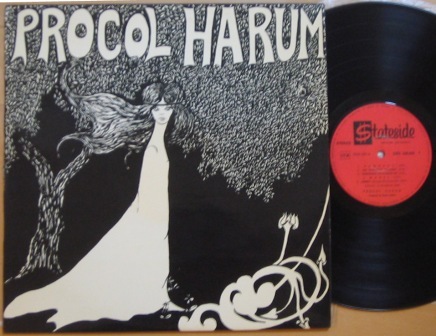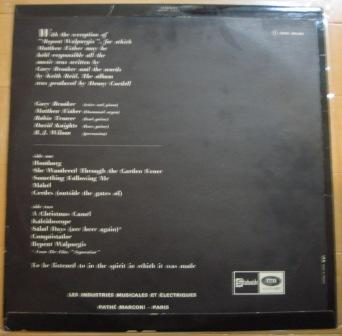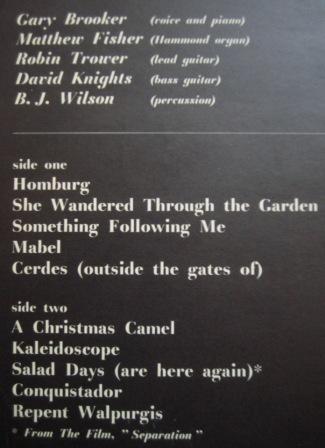 Tracklisting
A:
1.Homburg 3:55
2.She Wandered Through the Garden Fence 3:22
3.Something Following Me 3:36
4.Mabel 1:52
5.Cerdes (Outside the Gates of) 5:01
B:
6.A Christmas Camel 4:45
7.Kaleidoscope 2:53
8.Salad Days (Are Here Again) 3:39
9.Conquistador 2:36
10.Repent Walpurgis(Composed by Matthew Fisher) 5:04

Argentina 1st selftitled EMI PARLOPHONE P-5014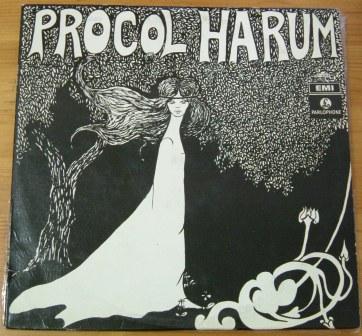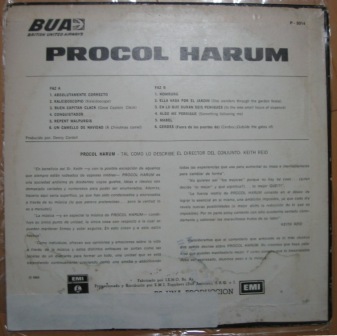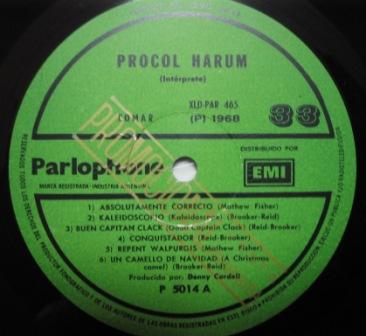 Tracklisting

FAZ A
1.Absolutamente Correcto
2.Kaleidoscopio(Kaleidoscope)
3.Buen Capitan Clack(Good Captain Clack)
4.Conquistador
5.Repent Walpurgis
6.Un Camello De Navidad(A Christmas Camel)

FAZ B
1.Homburg
2.Ella Vaga Por El Jardin(She Wanders Through The Garden Fence)
3.En Lo Que Duran Seis Peniques(In the Wee Small Hours of Sixpence)
4.Algo Me Persigue(Something Following Me)
5.Mabel
6.Cerdes(Fuera De Las Puertas De) (Cerdes)(Outside The Gates of)
Israel 1st selftitled LRZ1001

Product of Symphonia LTD Tel-Aviv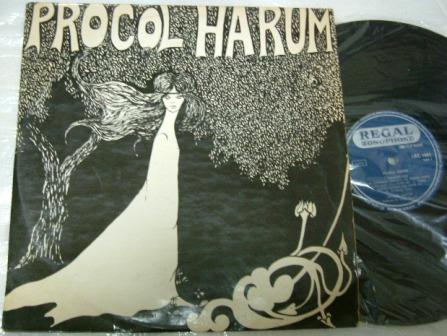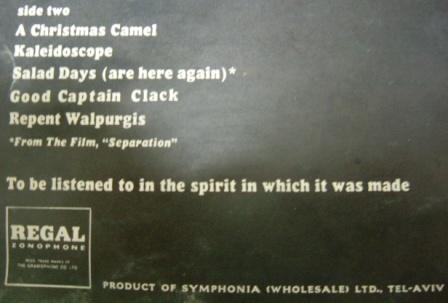 Track listing:
A:
1.Conquistador 2:36
2.She Wandered Through the Garden Fence 3:22
3.Something Following Me 3:36
4.Mabel 1:52
5.Cerdes (Outside the Gates of) 5:01
B:
6.A Christmas Camel 4:45
7.Kaleidoscope 2:53
8.Salad Days (Are Here Again) 3:39
9.Good Captain Clack 1:29
10.Repent Walpurgis(Composed by Matthew Fisher) 5:04
---

Italian released A whiter shade of pale」 (left)
Russian released AWSOP(Middle)
Taiwan released AWSOP(Right)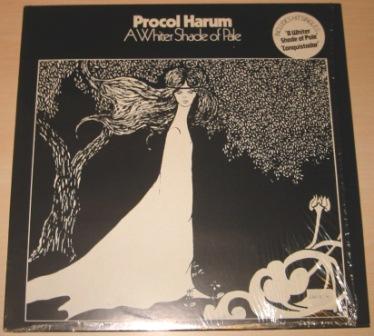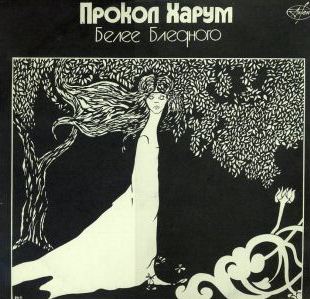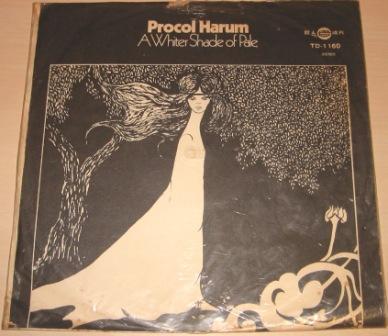 ---
Japanese released A Whiter Shade Of Pale(AWSO) album

Polydor MW2061 「A whiter shade of pale」Japanese 1st issued LP with OBI stripe.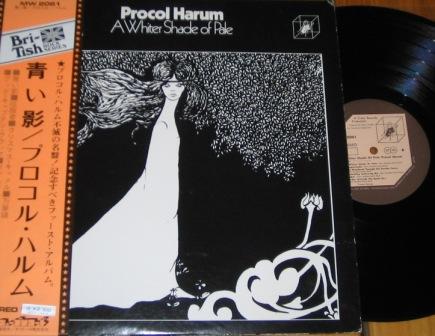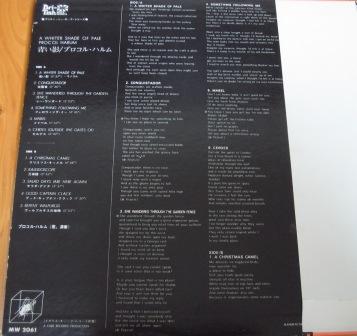 Japanese released AWSOP album Philips company LP 1976 RJ-7171(M)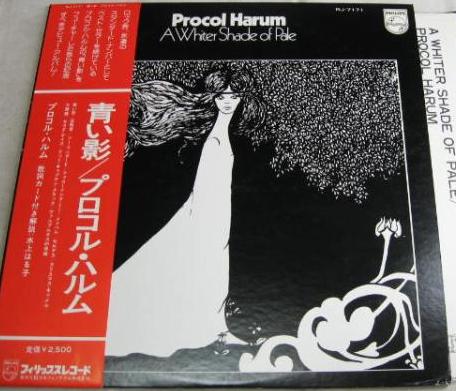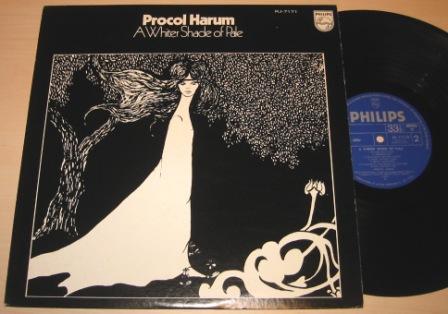 a

Japanese released AWSOP album Philips company LP 1978 BT-5156(M)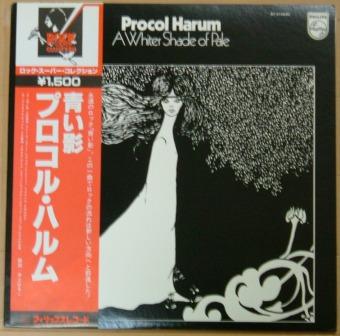 Track listing:
A:
1.A whiter shade of pale 4:03
2.Conquistador 2:36
3.She Wandered Through the Garden Fence 3:22
4.Something Following Me 3:36
5.Mabel 1:52
6.Cerdes (Outside the Gates of) 5:01
B:
7.A Christmas Camel 4:45
8.Kaleidoscope 2:53
9.Salad Days (Are Here Again) 3:39
10.Good Captain Clack 1:29
11.Repent Walpurgis(Composed by Matthew Fisher) 5:04

Japanese released 1st press LP

Procol Harum 「First」 SLPM1396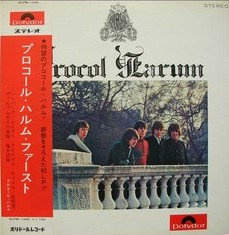 Procol Harum 「Quite Rightly So」 SMP-1429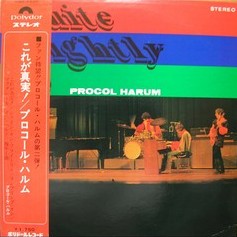 The above 2 items are rarest for Japanese LP with OBI.


Shine on Brightly AML-77 (1971 15th Jan)

A Salty Dog AML-90 (1971 10th May)

Home AML-109 (1971 10th Oct)

Broken Baricade AML-99 (1971 10th July)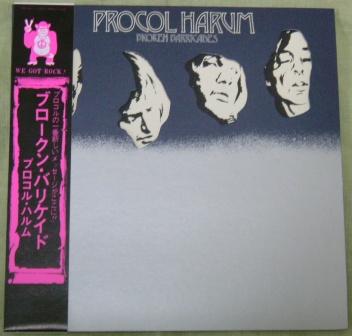 Live GP-214 (1971 25th Apr)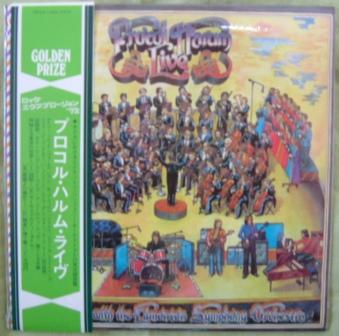 Golden Prize GP-215 (1971 25th Apr)

Track listing:

Side1

1Quite Rightly So
2.Skip Softly
3.Poor Mohammed
4.Rambling On
5.About To Die
6.Wreck Of The Hesperus.

Side2
1.Magdalene
2.The Dead Man's Dream
3.Nothing That I Didn't Know
4.Memorial Drive
5.The Devil Came From Kansas
6.Whiskey Train

Grand Hotel 1st press CHR1037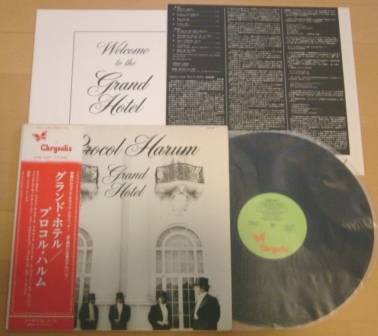 Exotic Birds and Fruit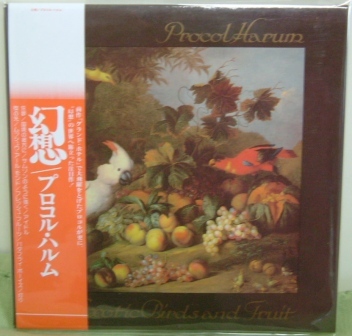 Ninth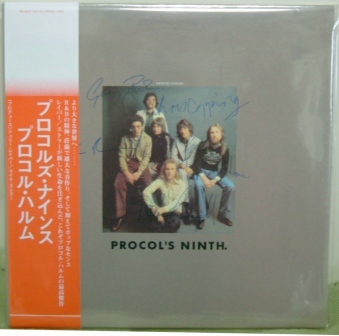 Something Magic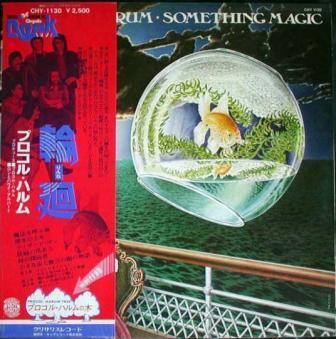 Japanese released 2nd issue of 3rd,7th,8th and 9th with OBI / Chrysalis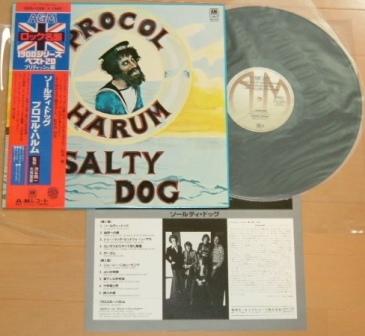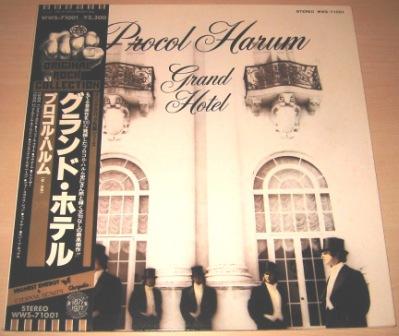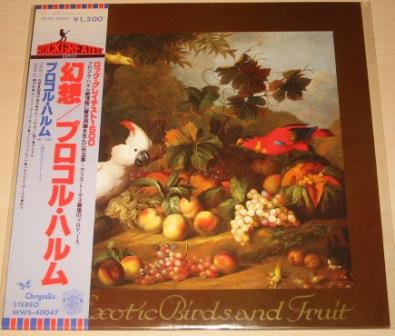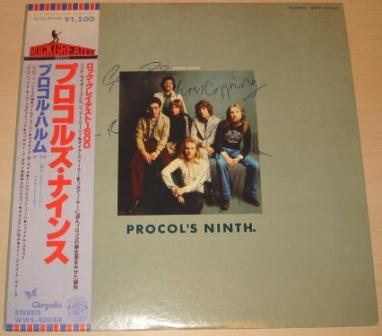 ---
US released LP

US released 2nd LP "Shine on Brightly "came in a different sleeve.Japanese one also came in this US type sleeve.
US released 3rd LP "A Salty Dog".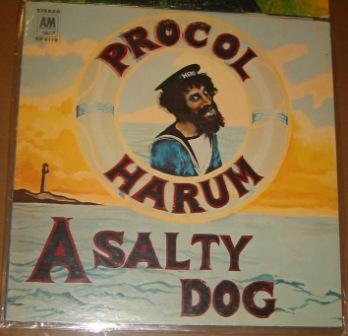 US compilation LP

The best of Procol Harum A&M SP-3259




Tracklisting
A:
1. A Whiter Shade Of Pale
2. Lime Street Blues
3. Homburg
4. (In The Wee Small Hours Of) Sixpence
5. Quite Rightly So
6. Shine On Brightly

B
7. A Salty Dog
8. Long Gone Geek
9. Whisky Train
10. Simple Sister
11. Conquistador
US A&M Promotional Only LP

SP-8053(SP-8100,SP-8101) Promotional Not for Sale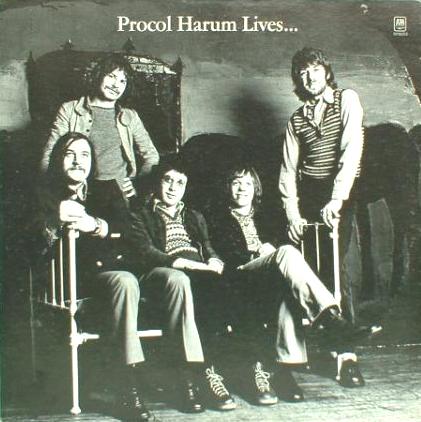 Tracklisting

Side 1
1.RAMBLING ON,APRIL,1971; 14:52
An interview to be sung along with

Side 2
Procol Harum's Greatest Non-Hits
1.Homburg
2.Shine on brightly
3.Nothing that I didn't know
4.Long gone geek
5.Salty Dog
---
Russian released LP
2nd "Shine on Brightly". Came in rare design sleeve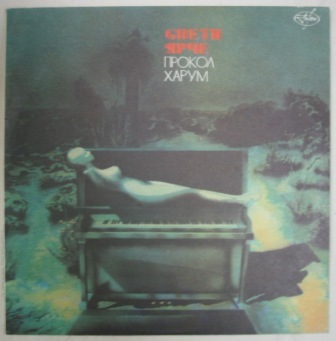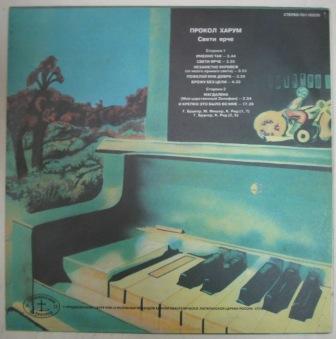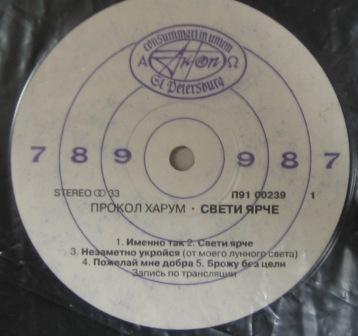 ---
Uruguay released LP

2nd "Shine on Brightly". Came in same design sleeve

ODEON YCARX 49 (P) 1968 STEREO SURL 20575 A&B

Spanish Title "Brillar ConEsplendor"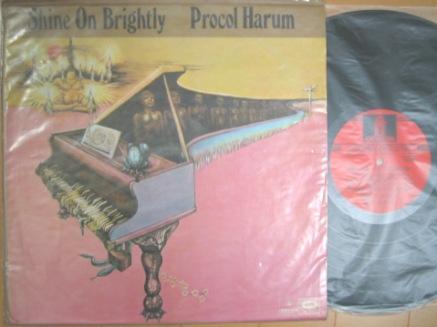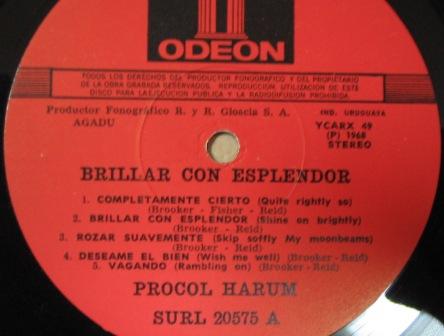 Tracklisting

A
1.COMPLETAMENTE CIERTO (Quite rightly so)
2.BRILLAR CON ESPLENDOR (Shine on brightly)
3.ROZAR SUAVEMENTE (Skip softly My moonbeams)
4.DESEAME EL BIEN (Wish me well)
5.VAGANDO (Rambling on)

B
6.MAGDALINE (My Regal Zonophone)
7.ESTABA EN MI PODER (In held Twas in I)
a)VILUMBRES DEL NIRVANA (Glimpses of Nirvana)
b)FUE LA HORA DEL TE EN EL CIRCO (Twas tea time at the circus)
c)EN EL OTONO DE MI LOCURA (In the autumn of my madness)
d)MIRA A TU ALMA (Look to your soul)
e)GRAN FINAL (Grand finale)
---
Collector's LP(Bootleg LP)

The Elusive Procol Harum 718A-B,Hamburg Records 718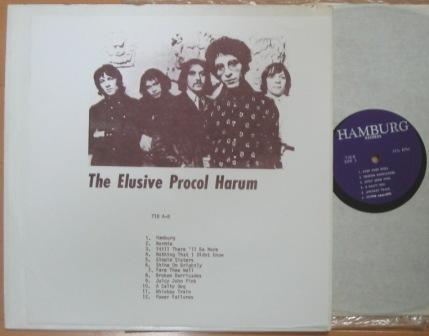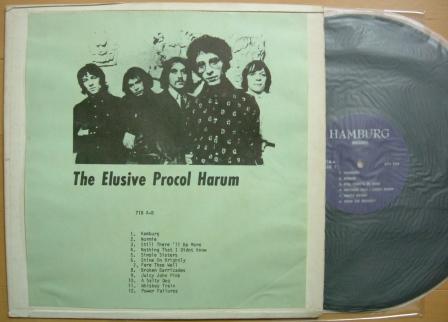 Track listing

Hamburg
Normie
Still There'll Be More
Nothing That I Didn't Know
Simple Sisters
Shine On Brightly
Fare Three Well
Broken Barricades
Juicy John Pink
A Salty Dog
Whisky Train
Power Failures

UK released Shine on Live TRADE MARK OF QUALITY blue,yellow,red and orange etc colored Vinyl Released in 1971.

The photo is for blue vinyl.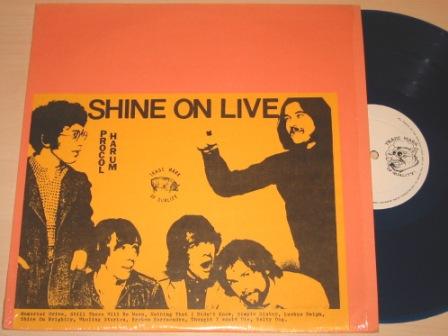 Track listing

Memorial Drive
Still There Will Be More
Nothing That I Didn't Know
Simple Sister
Luskus Delph
Shine on Brightly
Whaling Stories
Broken Barricades
Thoght I would Die
Salty Dog

PROCOL HARUM 1973 Live Radio Show Retro Rock Vinyl

Los Angeles Philharmonic and the Roger Wagner Chorale

BROADCAST WEEK OF 6-28-1982 US STEREO RADIO SHOW LP on RETRO ROCK

PROCOL HARUM with LOS ANGELES PHILARMONIC ORCHESTRA
Guest Conductor ISAIAH JACKSON and THE ROGER WAGNER CHORALE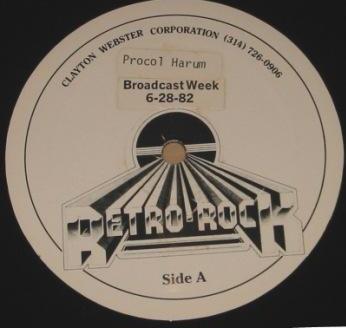 PROGRAMME

Tonight's Programme Will Be Chosen From the Following Compositions

Broken Barricades
Conquistador
The Devil Came From Kansas
Fires (Which Burnt Brightly)
Grand Hotel
Homburg
In Held T'Was [sic] in I
Kaleidoscope
Piggy Pig Pig
Repent Walpurgis
A Salty Dog
Shine On Brightly
Simple Sister
Souvenir of London
Toujours L'Amour
TV Caesar
Whaling Stories

Tracklisting
1.SIMPLE SISTER
2.GRAND HOTEL
3.FIRES WHICH BURN BRIGHTLY
4.BROKEN BARICADES
5.A SALTY DOG
6.TOUJOUIS L'AMOR
7.THE GRAND FINALE
8.CONQUISTADOR
PROCOL HARUM FIVE AND DIME LABEL TAKRL 1990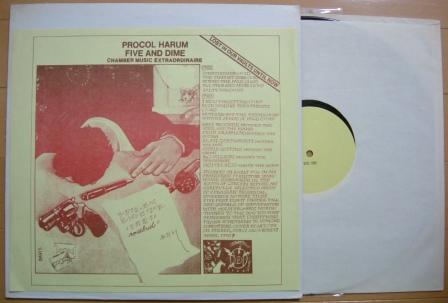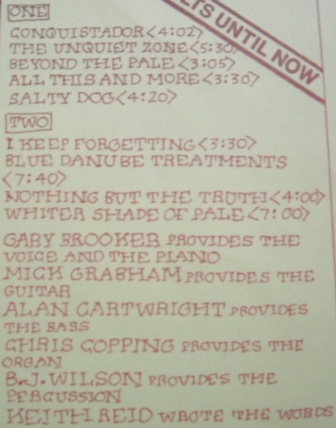 Track listing

CONQUISTADOR
THE UNQUIET ZONE
BEYOND THE PALE
ALL THIS AND MORE
SALTY DOG
I KEEP FORGETTING
BLUE DANUBE TREATMENTS
NOTHING BUT THE TRUTH
WHITER SHADE OF PALE

LIVE IN LONDON 1976
PROCOL HARUM,Snails And Pentagrams / Death 531*

Track listing
Side A
Conquistador
Simple Sister
Grand Hotel
Whaling Stories

Side B
The Mark Of The Claw
Pandora's Box
Unquiet Zone(with Drum solo)
A Salty Dog

PROCOL HARUM,Tales With Tangrams / TAKRL 1920

Track listing
???

---
* mark LP information was kindly given by "Captain Clack" from Japan.Thank you. 28th,Jan,2006
.
If you have any other bootleg LPs information,please let me know.Thank you.
---