Procol Harum Biography

---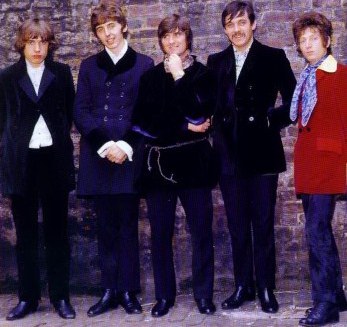 PROCOL HARUM was originally formed in Essex, England following of the R&B band,the Paramounts.
The lead member Gary Brooker(Piano&Vocal) met one lyricist Keith Reid and began writing songs and made their debut with Bach-influenced classical song "A Whiter Shade Of Pale" in 1966.
They splited in 1977,then reunioned in 1991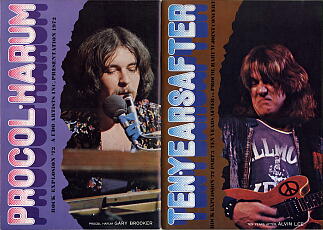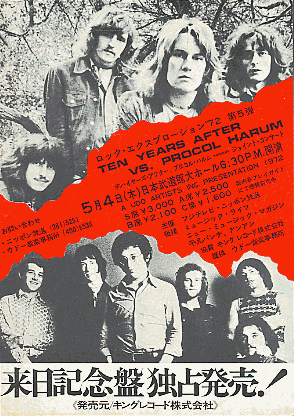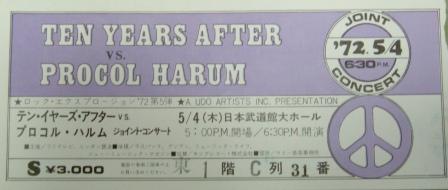 1972 Japan tour Concert "Procol Harum VS Ten Years After" pamphlet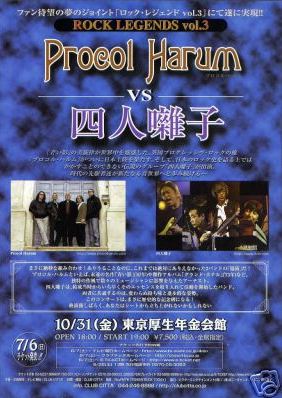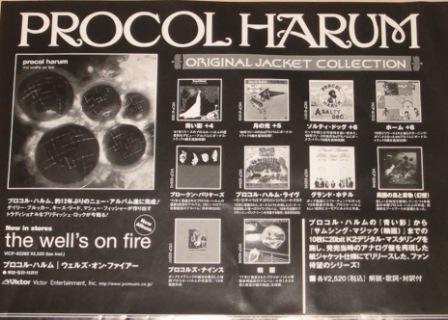 2003 Japan tour concert handbill front&backside.The backside introduces their 10 released miniture LP size paper sleee CDs and "the well's on fire"CD.
---
The origin of the name of Procol Harum

The "Procul" means "far from these things" in Latin.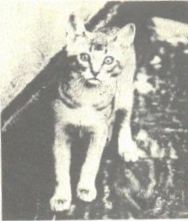 Procol Harum,a name derived from a friend of the member Guy Steven's cat name of "Procul Harun".


---
Procol Harum Pedigree(Including Paramounts era)

Paramounts 1 1961 to 1963

Gary Brooker(Piano&Vocal),
Bob Scott(Vocal),
Robin Trower(Guitar)、
Mick Brownlee(Drum),
Chris Copping(Bass)

Paramounts 2 Aug 1963 to Oct 1966

Gary Brooker(Keyboard&Vocal),
Robin Trower(Guitar)、
Barrie.James.Wilson(Drum),
Dizz Derrick(Bass)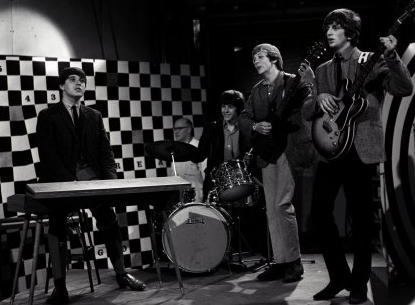 Proto-Harum Very early 1967

Gary Brooker(Piano&Vocal),
Keith Reid(Composer),
Barrie.James.Wilson(Drum),
Dave Knight(Bass)

Procol Harum 1 March to July 1967

Gary Brooker(Piano&Voca"),
Keith Reid(Composer),
Matthew Fisher(Hammond Organ),
Ray Royer(Guitar)、
Bobby Harrison(Drum),
Dave Knight(Bass)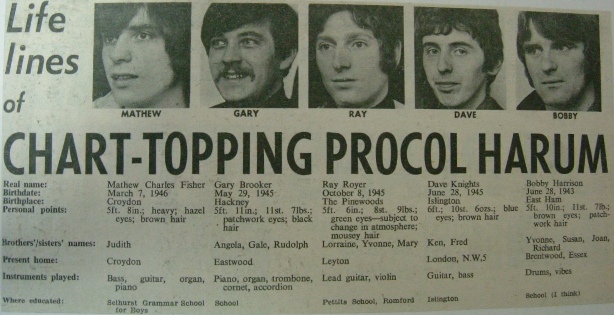 Procol Harum 2 Jul 1967 to Sep 1969

Gary Brooker(Piano&Vocal),
Keith Reid(Composer),
Matthew Fisher(Hammond Organ),
Robin Trower(Guitar)、
Barrie.James.Wilson(Drum),
Dave Knight(Bass)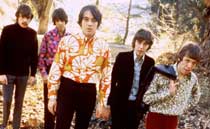 Procol Harum 3 Sep 1969 to Jul 1971

Gary Brooker(Piano&Vocal),
Keith Reid(Composer),
Chris Copping(Organ&Bass),
Robin Trower(Guitar),
Barrie.James.Wilson(Drum),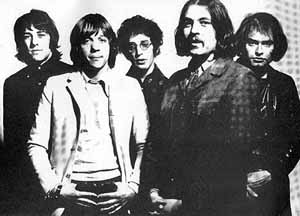 Procol Harum 4 Jul 1971 to Sep 1972

Gary Brooker(Piano&Vocal),
Keith Reid(Composer),
Chris Copping(Organ),
Dave Ball(Guitar),
Barrie.James.Wilson(Drum)
Alan Cartwright(Bass)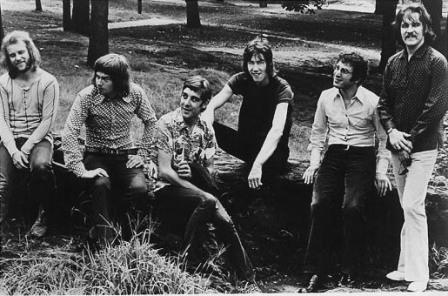 Procol Harum 5 Sep 1972 to Jun 1976

Gary Brooker(Piano&Vocal),
Keith Reid(Composer),
Chris Copping(Organ),
Mick Grabham(Guitar),
Barrie.James.Wilson(Drum)
Alan Cartwright(Bass)

Procol Harum 6 Jun 1976 to March 1977

Gary Brooker(Piano&Vocal),
Keith Reid(Composer),
Chris Copping(Bass),
Mick Grabham(Guitar),
Barrie.James.Wilson(Drum)
Pete Solley(Organ&Synth)

Procol Harum 7 February to March 1977

Gary Brooker(Piano&Vocal),
Keith Reid(Composer),
Dee Murray(Bass),
Mick Grabham(Guitar),
Barrie.James.Wilson(Drum)
Pete Solley(Organ&Synth)

Procol Harum 8 Oct 1977

Gary Brooker(Piano&Vocal),
Keith Reid(Composer),
Alan Cartwright(Bass),
Tim Renwick(Guitar),
Barrie.James.Wilson(Drum)
Chris Copping(Organ)
---
After the Reunion
Procol Harum 9 1991 largely in NY studios

Gary Brooker(Piano&Vocal),
Keith Reid(Composer),
Matthew Fisher(Organ),
Robin Trower(Guitar)、
Mark Brzezicki(Drum),
Henry Spinetti(Drum)
Dave Bronze(Bass)
Jerry Stevenson(Guitar,Mandolin)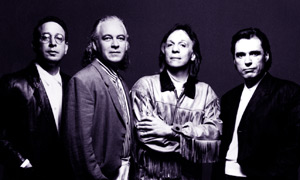 Keith Reid,Gary Brooker,Robin Trower,Matthew Fisher

Procol Harum 10 Aug - Oct 1991

Gary Brooker(Piano&Vocal),
Keith Reid(Composer),
Matthew Fisher(Organ),
Tim Renwick(Guitar)、
Mark Brzezicki(Drum),
Dave Bronze(Bass)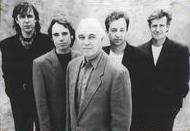 Procol Harum 11 Dec 91 to April 92

Gary Brooker(Piano&Vocal),
Keith Reid(Composer),
Matthew Fisher(Organ),
Geoff Whitehorn(Guitar),
Mark Brzezicki(Drum),
Dave Bronze(Bass)

Procol Harum 12 May - Jun 1992

Gary Brooker(Piano&Vocal),
Keith Reid(Composer),
Don Snow(Organ),
Geoff Whitehorn(Guitar),
Mark Brzezicki(Drum),
Dave Bronze(Bass)

Procol Harum 13 Aug 1992

Gary Brooker(Piano&Vocal),
Keith Reid(Composer),
Matthew Fisher(Organ),
Geoff Whitehorn(Guitar),
Mark Brzezicki(Drum),
Laurence Cottle(Bass)

Procol Harum 14 June 1993

Gary Brooker(Piano&Vocal),
Keith Reid(Composer),
Josh Phillips(Organ),
Geoff Whitehorn(Guitar),
Ian Wallace(Drum),
Dave Bronze(Bass)

Procol Harum 15 July to Sep 1993

Gary Brooker(Piano&Vocal),
Keith Reid(Composer),
Matthew Fisher(Organ),
Geoff Whitehorn(Guitar),
Ian Wallace(Drum),
Matt Pegg(Bass)

Procol Harum 16 July to Aug 1995

Gary Brooker(Piano&Vocal),
Keith Reid(Composer),
Matthew Fisher(Organ),
Geoff Whitehorn(Guitar),
Graham Broad(Drum),
Matt Pegg(Bass)

Procol Harum 17 London&Denmark Feb 1996

Gary Brooker(Piano&Vocal),
Keith Reid(Composer),
Matthew Fisher(Organ),
Geoff Whitehorn(Guitar),
Henry Spinetti(Drum),
Matt Pegg(Bass)

Procol Harum 18 Redhill Jul 1997

Gary Brooker(Piano&Vocal),
Keith Reid(Composer),
Matthew Fisher(Organ,Vocal,Guitar),
Mick Grabham(Guitar)、
Graham Broad(Drum),
Matt Pegg(Bass)
Alan Cartwright(Bass)
Chris Copping(Organ,Bass,Guitar)
Pete Solley(Organ,Piano,Synth,Violin)
Dave Bronze(Bass)

Procol Harum 19 Guildford 17 Sep 2000

Gary Brooker(Piano&Vocal),
Keith Reid(Composer),
Matthew Fisher(Organ),
Geoff Whitehorn(Guitar),
Mick Grabham(Guitar),
Matt Pegg(Bass),
Henry Spinetti(Drum)

Procol Harum 20 May 2001 to June 2004

Gary Brooker(Piano&Vocal),
Keith Reid(Composer),
Matthew Fisher(Organ),
Geoff Whitehorn(Guitar),
Mark Brzezicki(Drum),
Matt Pegg(Bass)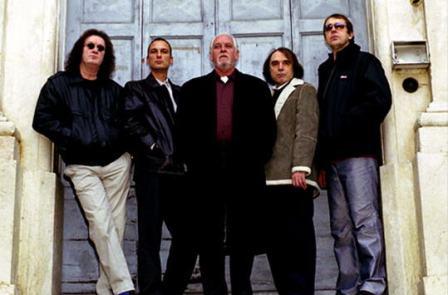 Procol Harum 21 June 2004 to 2006

Gary Brooker(Piano&Vocal),
Keith Reid(Composer),
Josh Phillips(Hammond Organ),
Geoff Whitehorn(Guitar),
Mark Brzezicki(Drum),
Matt Pegg(Bass)

Procol Harum 22 2007

Gary Brooker(Piano&Vocal),
Keith Reid(Composer),
Josh Phillips(Hammond Organ),
Geoff Whitehorn(Guitar),
Geoff Dunn(Drum),
Matt Pegg(Bass)
---